40 Questions To Ask Your Saskatoon Wedding DJ...Before You Hire Them (Part 1)
---
---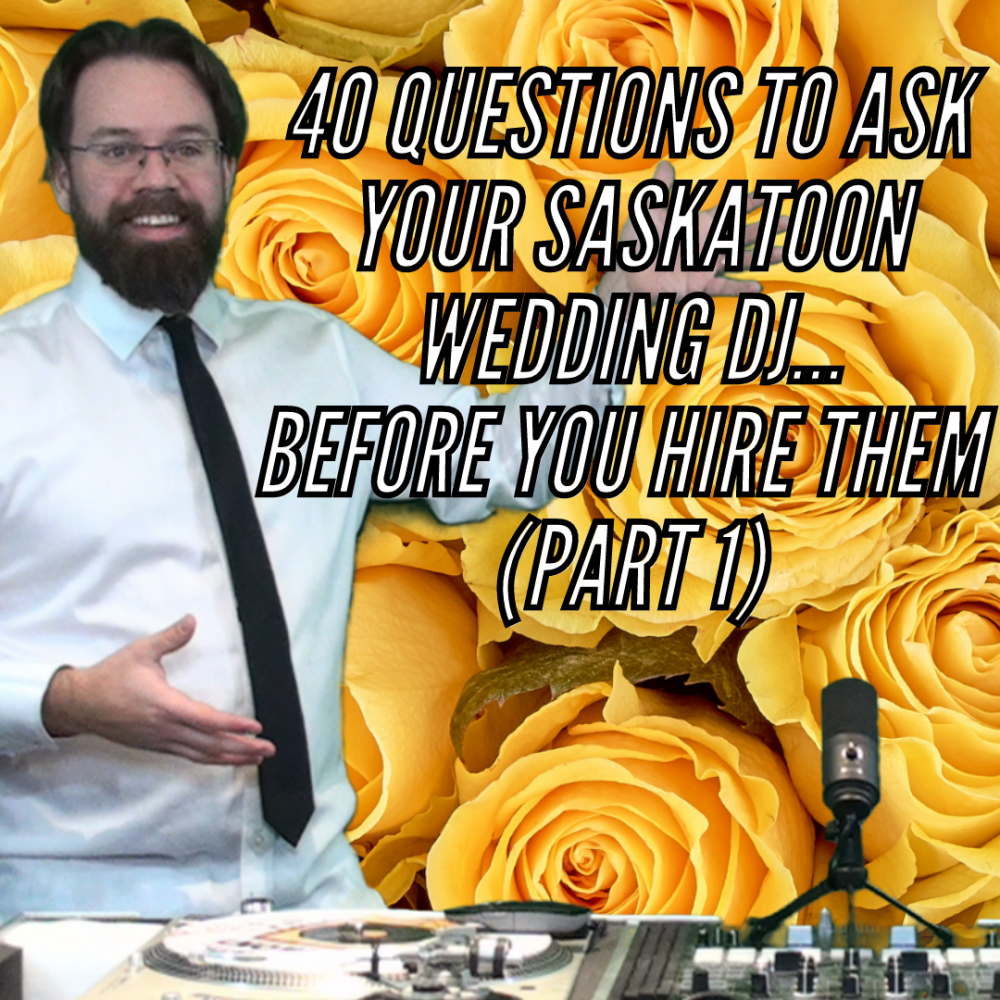 Top 10 question you should ask you're a DJ company before you hire them for your wedding (Part 1)
Now that you are set up with our Top 10 Saskatoon Vendors to Hire, we want to provide you with the top 10 questions to ask your Saskatoon Wedding DJ company before you hire them. You are planning the most important party of your life, and we know you want your wedding day to go smoothly, have the right vibe, and most of all, see your guests having a blast!

An experienced DJ company will be able provide varying DJ wedding packages. These packages offer services to help you throughout the day. They will ensure your ceremony music starts and stops when it should. They will cover any announcements of the wedding party and other events during the night. They will ensure everyone can hear your vows/speeches, provide lighting and other special effects to make your videos and pictures pop, and will know just what to play to keep your guests living it up on the dance floor the whole night.
1. How long have you been a DJ company and how many weddings have performed at?
While years in business is important, how many events a DJ company has successfully completed is the MOST important. If a DJ company has performed a handful of weddings each season, years of experience is irrelevant. You want the PLANNING experience of a seasoned DJ to make sure all your bases are covered. A seasoned DJ will ask you questions you didn't expect and will understand the overall flow and timeline of your wedding with all the little details that are vital for your day to be a huge success. A comprehensive wedding planning form will ensure that your DJ is in sync with you, your day, your MC and all your other vendors so they can accentuate all those special moments. Please ask us and we can send you a sample!

2. Do you have any reviews?
Going through reviews from a DJ companies' website, their social media and getting advice from friends/family and other couples ais the best ways to narrow your search down to your top 3 YXE DJ companies. You can then choose to interview your top 3 choices to get a vibe for them. Your DJ should have a healthy number of recent reviews. This gives you an accurate look into what to expect when hiring them.
The reviews should also have some written text to understand the customer's experience. Be wary of just 5 star's and no context surrounding them, as they might just be friends and family or people who were paid to do it. We suggest a minimum 50 reviews with context on multiple platforms before considering that DJ. Most vendors will have a few negative reviews as nobody is perfect, it's how they handle those reviews is key.
At Armed with Harmony we have over 400+ clients 5-star reviews and growing, 189 Facebook reviews, 101 on Wedding Wire, and 121 on Google.

3. Are you insured?
Most people don't go into a restaurant and ask the chef to see their red seal, or their lawyer for a diploma. The crazy fact is that the wedding industry is not regulated like other industries, it's kind of like the wild west. Anybody can become a wedding vendor without any experience or schooling. Meaning anyone with a camera can be a wedding photographer, anyone with a laptop can be a DJ.
Looking at their portfolio, body of work or website is 1 step to see if they have real world wedding experience, but with stock photos and weekend workshops it's harder and harder to see the difference from a highlight reel on Instagram to real life. Each vendor type will have slightly different certifications for being a wedding pro. Asking if they are insured is a good way to determine who is serious and who is not.
At Armed with Harmony, as DJ's, we have a 2-million-dollar event liability insurance policy. Should a speaker fall on someone you won't have to cover the bill (don't worry it's hasn't happened). We also have separate equipment insurance…incase an intoxicated guest spills their beer in our gear, and yes that HAS happened.
We also have:
· Saskatoon Business License (they are only $75 and so many vendors don't have them)
· Canadian DJ Association (One of two governing bodies for DJ professionals in Canada, they each DJ should be part of one)
· Connect Music License (allows us to play music legally, we also must pay to download that music from Legal Sources)
· Fall Arrest & Aerial Work Platform (Used for our bigger events if we need to hang or rig things)
· CSA Approved Products or Canadian Standards Association (No Chinese Knock Off Products)
- If they are not CSA approved this will VOID any insurance for us and your venue. It's just NOT worth the risks. Also it supports our local economy.
All our Saskatoon DJ licenses are proudly, transparently, and publicly displayed on our website.

4. Have you performed at our reception venue/site before?
You only get one shot to get your wedding day. Finding a DJ that has performed at your reception venue/site is an absolute added bonus. They will be able to give you clarity on the unknown nuances about your venue like where to park, how long it will take to load in and out, Wi-Fi access, the layout of the room, the outcome of the equipment set up.
Knowing that parking downtown at the Sheraton, Delta Bess, Delta Marriott will take an extra 15 min, the load into albert community center has a narrow ramp and small elevator will take longer than the easy main floor load in of the barn at winds edge. Even things like the proximity of the ceremony gardens at the Forestry Farm, Willows Red Barn and Elk Ridge Pond all matter in a jam-packed wedding day timeline.
Armed with Harmony has played all over Saskatoon and area. From hotels, legion halls, small town rinks, etc. We can accommodate any event. If it requires us to do a site visit and check out the venue before the day of the event, we will do it. We are a preferred vendor for many Saskatoon and area Venues for a good reason. It's all in the details.

5. How involved can we be in selecting music for our event? Can we submit a "Do No Play List?"
Music is like food; everyone has different tastes. Setting some guidelines and parameters to your musical DNA will play a big part in the success of the biggest moments in your day. Choosing the right music with your DJ will accentuate those moments. This includes pre ceremony music, all the elements of the ceremony, grand entrance, cocktail music, 1st dances, bouquet and garter toss, and open dancing.
Specific songs will be selected for some of these special moments and others will require an explanation of what mood to create. In other areas the DJ's expertise, experience and reading the crowd should be used. A must play, and do not play list, should always be included in a pre-wedding meeting, be sure to include the back stories to why those songs are so important.
At Armed with Harmony we can get involved as much as you want, in fact, the more the better. During the planning process we discuss our song request phiosophy. It can be a single song or an entire genre or vibe/mood. We also talk about the music you think your guests will enjoy. We encourage you to think about all your guests and the success of the dance floor/party.
We often hear, from the couples we meet, that they just want to, "have a good party" and, "see their guests have fun". Let our Party Science Experts work with your desired results, whether that be mood music for a cocktail style wedding or a classic wedding with a packed dance floor. If you are looking for music help, we have over 25 free custom-made Spotify playlists.

6. Do you take requests from our guests?
A wedding DJ who has been hired for a specific purpose should always take requests unless you let them know otherwise or you have a set playlist. We usually recommend staying away from set playlists as it doesn't leave room for an organic and evolving dance floor and music transitions are rough and noticeable. If your DJ brags that they have 100,000 songs, that might be great, but they need to play the right songs played at the right time. 100,000 deep house tracks might not be the right vibe for your wedding.
Every year we hear stories of a DJ that only played what they wanted all night or didn't have "wedding appropriate" music. At Armed with Harmony we want you and your guests to remember that a request is a suggestion and should be something that benefits the whole party and not just one individual unless you are the Bride/Groom!
Should one of your guests request a heavy metal song at an all-country music event, we may politely tell them that it probably does not fit with the crowd, or we may simply play it later in the evening when it is more suitable.
We can take requests verbally, on our pen and paper request forms we place on all the tables, or our contact free scannable QR code.

7. What will you wear to our wedding or event?
The DJ you hire should blend in with your event. Wearing a tuxedo at a small-town barn wedding or golf shirt at a black-tie event just doesn't work. At weddings, a shirt and tie and vest with black pants and shoes is a timeless way to blend in with the guests. Presentable, approachable and polite with long hair tied back, well groomed should be something you will see from your DJ and all vendors on their website, social media and promo pictures.
At Armed with Harmony you can select our attire right from our agreement. Casual, Semi Formal, Formal, Black Tie. We will wear collared shirt and slacks or shirt and tie with dress pants, unless told otherwise. You can see our ROCKSTAR Staff Here!

8. Do you act as the Master of Ceremonies and make all of the announcements?
This can be a challenging question. The MC is almost always a well known friend or family member, at Saskatchewan weddings. This means they can effortlessly tell stories about the bride/groom that will resonate with the guests. That is if they aren't deathly afraid of public speaking like most people are. A more American wedding DJ tradition is for the DJ to meet with the couple and family ahead of time and transcribe those stores and then present them on the wedding as their DJ & MC. Regardless of your choice the DJ/MC shouldn't be the center of attention they should highlight the reason for the celebration and that is the beginning of a new married life together. Any speaking should be directed to friends, family, or the couple directly.
At Armed with Harmony we are not a replacement for your event MC, but we can offer guidance and assistance should it be needed. Typical announcements we make are: Grand Entrance, 1st Dances, Bouquet/Garter Toss, Late Lunch, Last Call, Song Request Solicitation and End of Night.
Your MC should be introducing the head table, assisting with calling of tables for supper, welcoming up family for any prayers, speeches, toasts, shoe game etc. Depending on how interactive you want us to be, we can do a lot of mic work or very little. We typically check in with your Master of Ceremonies when we arrive and throughout the evening to ensure we are on the same page/timeline.

9. Who will be the DJ at our wedding?
This answer may change if you are hiring an individual or a company. If you are hiring an individual, make sure you ask if they have a back up DJ in case something was to happen to them and they can't make your wedding. If you are hiring a company, ask them who the DJ will be on the day of the wedding. You should also be able to see a photo/bio of the DJ and ask any questions or request an in person/online meeting.
You should also ask things like number of events, namely weddings the DJ has performed at. If a DJ says they have 5 years of experience but has only performed at 5 weddings and another DJ has 2 years experience but has performed at 30 weddings, you want to know this. Which would you feel is more qualified? Another great question to ask is if they have any formal training.
At Armed with Harmony we have 20 highly qualified DJs that can play all types of music and all types of functions. The DJ for your event will be chosen based on many factors including: your music style, your references/expectations, and our availabilities. The earlier you book, the better chance of getting a specific DJ.
No matter the DJ on our team before they can work for us, they have to complete an 8 week intensive program and shadow our SR. They also must staff for minimum 6 events before they can perform solo. We take great pride in guaranteeing its not your DJ's first time.

10. Do you offer any other services besides DJing?
This step may help you save time, money, and stress! If your photographer also offers videography you just saved yourself from, the search, another meeting, another deposit, and another email chain. Time is one thing you can't make more of. Wedding planning is very time consuming.
Simplify your points of contact, agreements you have to sign, retainers you have to pay and people you have to coordinate with by having us, at Armed with Harmony, handle things like Ceremony Music, Photo Booth, Lighting, Projector & Screen rentals, and Special Effects. The time you save will allow you to focus on other details of your wedding and ease the stress of an already busy day.
Now go dance the night away, with the ones that you love.
---