Top 7 Wedding Vendors To Hire When Planning Your Saskatoon Wedding
---
---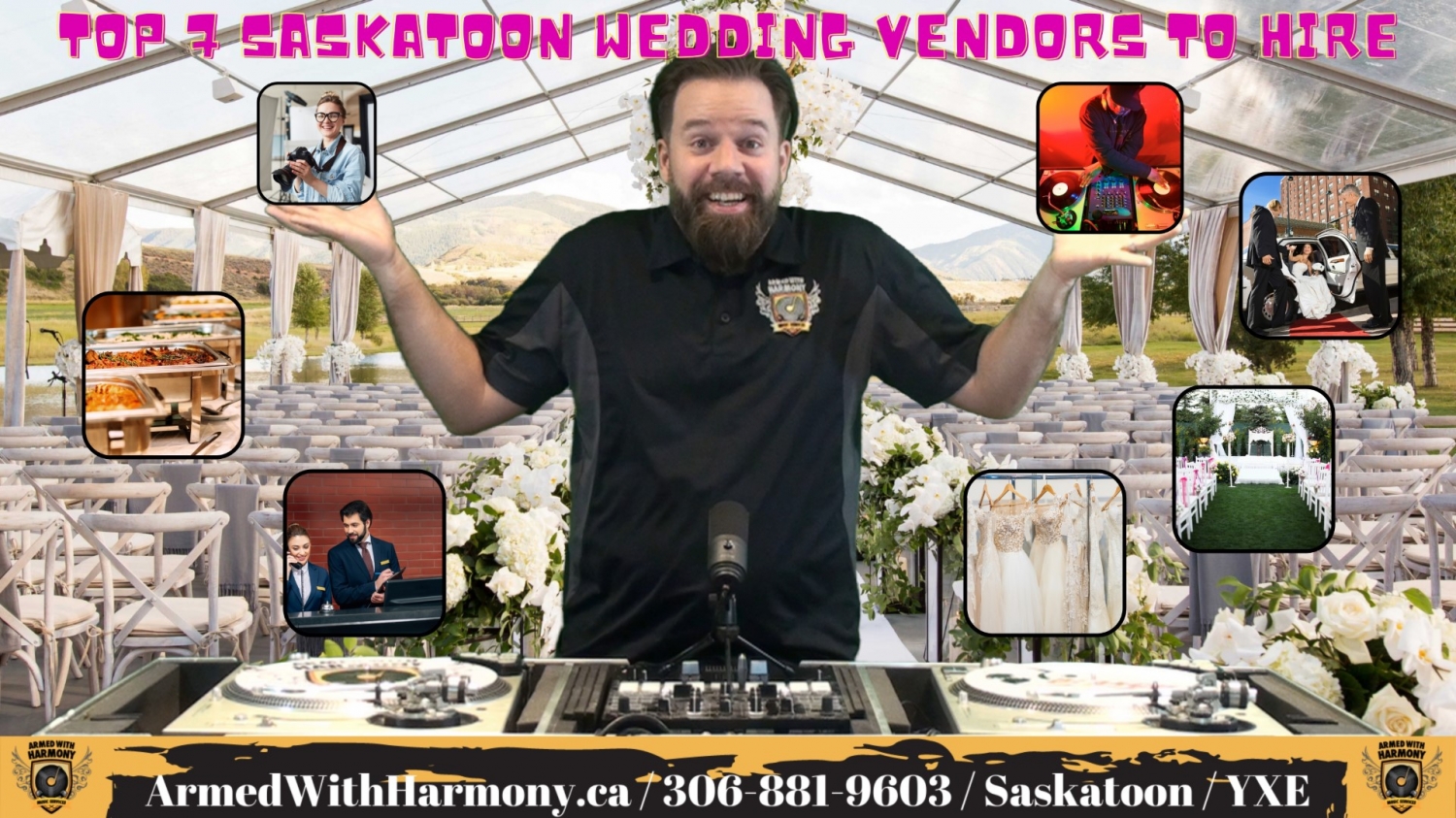 Top 7 Wedding Vendors To Hire When Planning Your Saskatoon Wedding
You just got engaged? How exciting! Most Saskatchewan couples don't know where to start in planning their wedding. Don't get overwhelmed on where to start. While letting it all sink in, and letting everyone know – check out our list, in order of priority, of vendors YOU should hire first to make planning your wedding a breeze! Do your research online first, find the top 3 vendors in each category and then only meet (virtually or in person) with those choices.... Remember it's not always about price! Value and experience matter, and the memories you create on that day will last a lifetime.
1. Venue

Whether you are planning a small intimate reception, or an all-out extravaganza with all the extras, ensuring you reserve your venue, is at the top of our list, as most saskatoon wedding venues are booked out one to three years in advance. Once you get engaged start to think about the time of year you want to get married. Will it be an indoor or outdoor wedding? Does the venue have catering options? Are they able to meet your capacity needs? Once you have this figured out it's time to find a venue that suits all your needs. Some venues come with the possibility of a ceremony space, others you will have to find a separate location. This will affect the flow of your day and remember your wedding day is only one day. You want to be able to spend as much time with your loved ones as possible. Guest accommodations on site is something to consider especially if you have family from out of town. Note, these are usually book between 12-36 months in advance also. So, get on the venue and the rest will work around that. Now that the venue is booked, you can tell all other vendors when and where you need them. If you don't secure the venue first, you may end up needing to change the date/location and it may not be available. Make sure you ask if the venue allows you to bring food and alcohol as some venues don't.
2. Catering Food

Food and Music are the things people remember most about attending weddings. Remember while yes you are getting married, you are also throwing and planning the biggest party of your life. Having a good meal from a Saskatoon wedding caterer hot and ready on time is a Key. Treating your guests to a good meal is your way of saying thank you for coming to celebrate with us. Some older guests or guests with kids may only attend the ceremony, cocktails, meal, and speeches it's a night out for them, so make it special. A good meal also gives the rest of your guests the energy to tear up the dance floor till the early morning.
3. Photography & Videography

Many saskatoon wedding photographers & videographers are solo operations and book up fast. You may need to hire a separate photographer or videographer, or they may cover both. Create breathtaking first dance pictures by adding Armed with Harmony's "first dance lighting" or "Dance on a Cloud" options. Switch to heart lighting for the second dance to add a unique touch to this special moment. You need to love their style but also mesh with their personality. It's just as important that they understand how weddings,as the quality of their work. Let's face it, humans are awkward and person you choose needs to be able to direct you in order to get the kind of results you want. Asking about the turnaround timeline AND how you get your content delivered is key. Do you get all photos, online gallery only, engagement shoot included? Also, be sure to provide your photographer with a list of people and events you want photographed so they can ensure all moments are captured and nothing is forgotten. If you have any special effects like a surprise dance, indoor cold sparklers, or dance off, make sure to inform the videographer so they can capture all the important moments. Ways to help your videos pop is to ensure the lighting in the room is on point. Up lights placed on the floor give your wedding reception added ambiance and come in a wide variety of colours.
4. DJ / Entertainment

Your DJ is often present for your entire day. Potentially from ceremony all the way to 1am. We are often the 1st to arrive and last to leave. Even if we are not part of the ceremony, we will end up controlling over 50% of your reception from 9pm-1am dance, potentially 8 hours from 5pm Cocktails onward. Be sure to give as many song suggestions as possible to ensure you are creating the right vibe for your wedding. Check out our Saskatoon DJ Wedding Spotify Playlists If you prefer to do your own music, consider utilising armed with harmony's "Do It Yourself Wedding DJ Rental Package" We can offer many complementary items that make planning easier like Photo Booths, Lighting, Mic for Ceremony/Speeches, Projector & Screen, & Special Effects. We have touch points with almost all of your vendors. We work with your Marriage Commissioner at ceremony time, venue for load in and out, your MC at the reception, caterer to call supper and late lunch, photographer for 1st dance lighting, bartenders for last call and guests for requests. Hiring the right DJ or DJ service, can take a lot of stress out of the whole day. Just like a good photographer a good DJ will understand the flow of a wedding and anticipate those special moments to make them spectacular. Preparation is what makes a good DJ great, along with playing the right music at the right time. Saskatoon Wedding DJ's book about 10-14 Months In Advance.
5. Limo/Transportation

Getting you and your bridal party to and from photos, to the ceremony and back to the venue, on time, while still being able to have a few drinks is huge. Your wedding is spent with friends and family and is usually only about 10-16 hours, maximize time together. You will spend over a year planning it so don't waste any special moments. Saturdays are always the busiest day to book. All it takes is for a huge concert, sports game, or tourism event to happen and you will be left scrambling to find a way to ride in style with the people that mean the most to you. Booking 6-12 months in advance, depending on the time of year you are booking.
6. Marriage Commissioner / Ceremony Space

These people are all individuals, luckily some can do multiple ceremonies in one day, providing their available time works with the time you have for your ceremony space. Most public spaces give you a 1-hour time block and most ceremonies are about 15 minutes. This gives you 30 minutes for pre seating and 15 min to exit the space. If the ceremony is outdoors for more than 30 people i highly suggest, at minimum a sound system with mic so all your guests can hear. If you have a mic your videographer will be able to get a recording of your vows which will be a keepsake forever. It's also ULTRA important that you arrive to the ceremony early as your venue and JP only have a specific allotted time available and you don't want to keep your guests waiting. Trying to coordinate multiple people who are alreadynervous takes time! Booking 6 months in advance.
7. Dress

Finding the perfect dress can take some time, and I know it's HARD not to put this as the FIRST thing you do. I know there is ONLY 1 perfect dress, but they don't make more locations or wedding dates, which is WHY venues is #1. It takes time to find the right dress takes time as does ordering one if needed. Waiting for the launch of a new collection from a certain designer may be something you want to consider. Whether you order a dress or get off the rack, remember alterations may need to be done. If you give yourself time, things will always work out. Leaving it too late will cause rush Delivery fees, more money, and unneeded added stress of not knowing when/if it will show up with enough time to alter it Expect to place a 50% deposit to say yes to the dress. Start shopping 10-12 months prior, order time is 6-9 months.
Now that you have the essentials covered. Take time to enjoy your engagement and enjoy the process of all the finer details.
Congratulations, and all the very best.
---