Saskatchewan Outdoor Pop Up Drive In Movie Theatre - Armed With Harmony & Cinema Under The Stars
---
---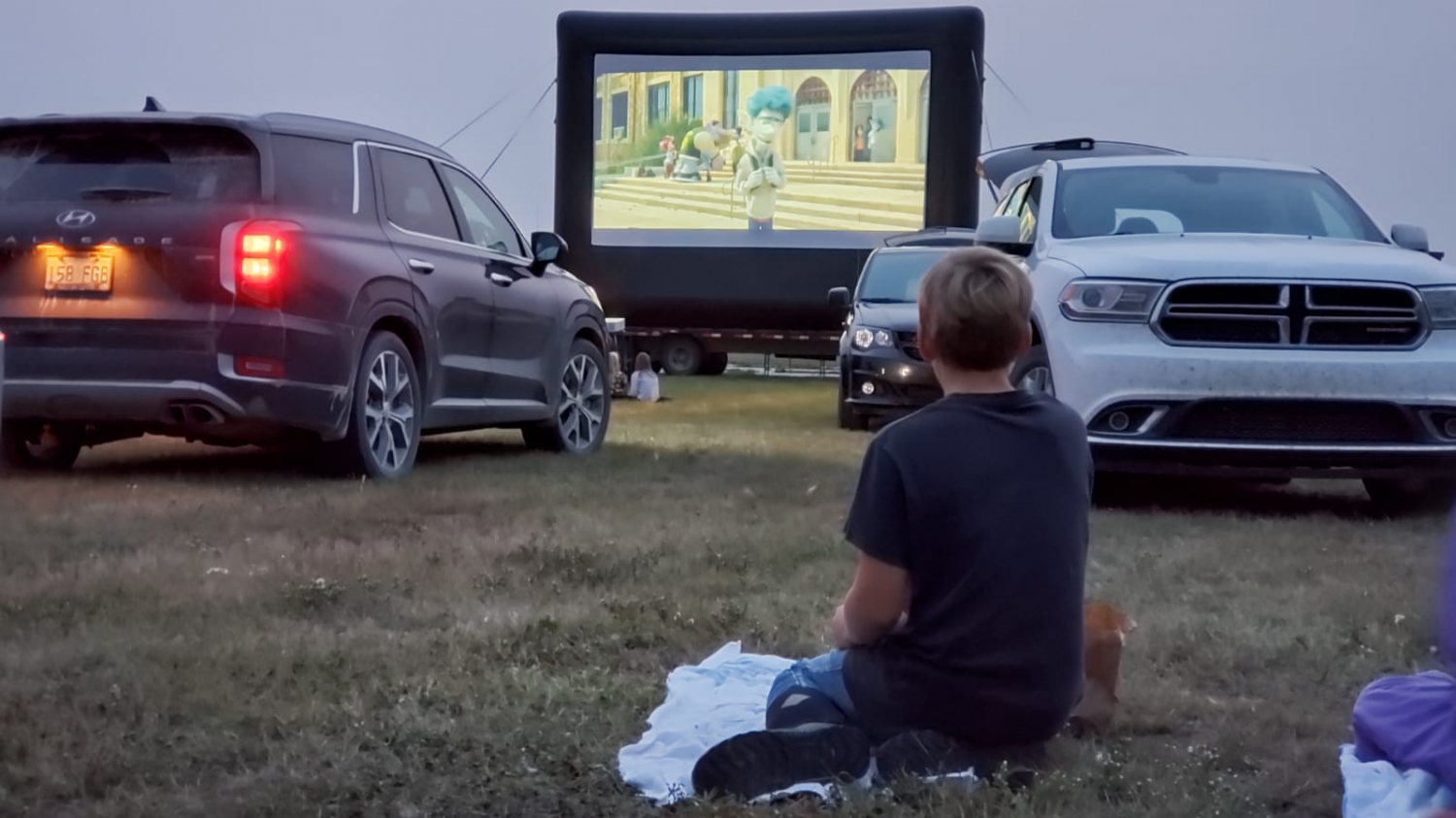 Kick your Saskatchewan summer events up a notch with Armed with Harmony's "
Cinema Under the Stars
".
A Saskatchewan pop-up, outdoor, drive-in movie extravaganza!
Are you planning a party, corporate event or fundraiser? Are you looking for unique party ideas to make your event huge success? Armed with Harmony has you and all of Saskatchewan covered with our outdoor pop-up, drive-in movie package.
What is Cinema under the stars?
It is a re-invention and rejuvenation of the classic drive-in movie theater experience. We offer portable video screens, speakers, and projectors that allow you to create your own drive-in movie experience, in a location that is convenient for you. We provide pre-movie music and interactive retro video games to get the party started.
If you are looking to show movies in the day light, we also rent an LED Video Wall
What events can I incorporate a outdoor movie with?
- Community Associations
- Parks (City/Regional/Provincial/National)
- Lake's (Float In Movie)
- Ball Tournaments
- Rodeo's
- Small Town's (Pool / Curling or Skating Rink / Ball Diamonds)
- Sports Games (Riders, Rush Playoffs, NHL Playoffs)
- Cruse Night's or Drive In Movie (FM Transmitter Available)
- Businesses With Large Parking Lots
- Music Festival's
- Staff/Customer Appreciation Nights
What does Cinema Under the Stars package cover?
Armed with Harmonys' - Movie Under The Stars Package Covers:
2x Person Team Set Up, Operation (Tech On Site At All Times) & Take Down Of The Following.
1x Screen 27 ft Wide X 21.5 ft Tall Inflatable Screen / Screen Surface is 20 Feet Wide x 11 Feet Tall and 23 Feet In Diameter
Ground Supports (Steaks, Sandbags or To Trailer) *You would have to supply trailer, more info on that below.
1x Projector (5,500+ Lumens) (Can Be Front or Rear Projection. Pending Setup. We suggest front projection)
6,550w Generator + Fuel or Long Extension Cords (more ideal if you supply power on site. 2x Separate 15A Breakers)
Air Blower and Sound Dampening Muffler Box For Blower
6x Speakers On Stands
4 Channel Audio Mixer w/ All Cables and Cords
1x Wireless Microphone
Blu Ray/DVD Player/Media Player
1x Laptop
Pump Up Music Pre Show Music
We supply digital copy of the movie for playback (Unless it's an independent film, family movie, graduation PowerPoint etc Please supply to us in .mp4 or .PPXT format.)
Sponsor Slideshow and Videos Prior to Show Start (We offer templates, you must edit and send to us)
Drive In Style w/ FM Transmitter (currently only style supported in this phase of Covid-19)
We will typically will NOT know the FM Station/Dial # until we arrive on site. We will display on screen for your guests to see.
We will have 3 options selected and choose the best sounding one on site when we arrive.
Number Of People: pending your given land and space - Mandate states 5 meters/15 feet between cars.
The average paved parking lot stalls are 10 feet. Meaning that you could park a car in every 2nd stall
This means that 50% of your parking lot capacity would be your max drive in total up to 60 vehicles (per one screen)
We Suggest 40-60 cars is the most ideal for one screen.
If you want 60+ cars we suggest a dual screen set up.
Event CAN proceed rain or shine with the FM Transmitter. Full cancellation policy in our terms and conditions.
Typically the only reason for a cancelled event is high winds over 35+ km/h. Or extreme weather.


What is the best time for a summer outdoor movie?
Time can vary depending time of year (June 21st is the longest sunlight day of the year).Movies can start earlier if in a covered/shaded area or tent etc. Please remember some places require permits and some places have 11pm "quiet time bylaws". This approval is your responsibility. Most ideal if BACK of the screen faces WEST/Sunset. Bonus if screen is up against a building/wind break, but not mandatory.
May dusk is approx: 9pm
June dusk is approx: 9:30-10pm
July dusk is approx: 9:30-10pm
Aug dusk is approx: 9pm-9:30
Sept dusk is approx: 8:00-9pm
Oct dusk is approx: 7-7:30pm*also depends if you are north of Saskatoon, it will get darker, a bit earlier.


What if I don't need the whole drive-in movie package?
We rent out all of our equipment so you can pick and choose what you rent from us. If you just want the big screen, no problem. If you just want the projector and FM Radio Transmitter, no worries at all. Click here for a list of all of our rentals.
We start bookings for May long weekend, so let your imagination run wild, and make sure you contact us in advance to reserve your spot for your next Cinema Under the Stars experience.
Share what events you have used our pop-up outdoor movies for in the comments below. We always love hearing from you!
---