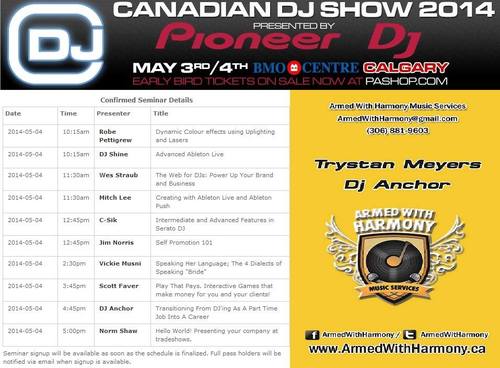 For a second year I (Dj Anchor of Armed With Harmony Saskatoon) am very honored to be a guest speaker at the 2014 Canadian Dj Show in Calgary.
The show is for Nightclub Dj's, Mobile, Wedding & Special Event Djs and future djs.
The show includes Seminars on the following:
- Dynamic Colour effects using Uplighting and Lasers
- The Web for DJs: Power Up Your Brand and Business
- Creating with Ableton Live and Ableton Push
- Intermediate and Advanced Features in Serato DJ
- Speaking Her Language; The 4 Dialects of Speaking "Bride"
- Play That Pays. Interactive Games that make money for you and your clients!
- Transitioning From DJ'ing As A Part Time Job Into A Career (Dj Anchor)
- Hello World! Presenting your company at tradeshows.
It will also include the 2014 DMC Canada Calgary Eliminations!

Plus Buy Gear From Great Vendors!
For Full Info Or To Register For The Show Go Here> http://www.cdjshow.com/
---