40 Questions To Ask Your Saskatoon School DJ Before You Hire Them (Part 1)
---
---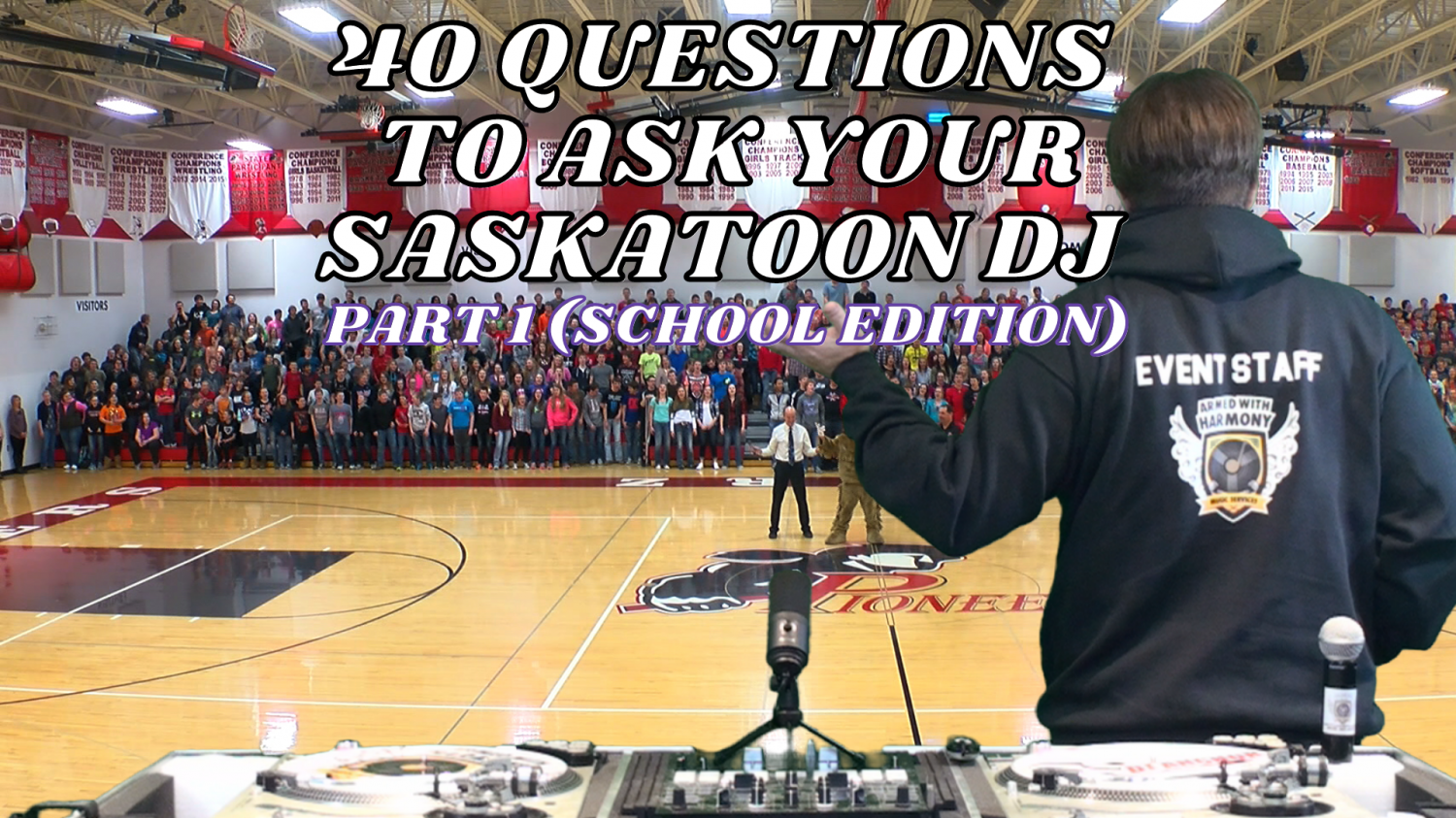 Planning a Saskatoon School dance? Want to ensure you have everything covered, and make sure the DJ service you hire saves you time, money and stress?

Check out our top 10 question you need to ask your Saskatoon School DJ.
1) Do you offer a contract & what are your payment terms?

The DJ you hire should be able to show you these ahead of time. It's so paramount to have a written or digital agreement. There are so many factors when entering into the school or event facility. The safety and liability of the students, faculty and staff should always come first.
Make sure the hiring teachers or parent committee is on the same page with the people who issue payments. but preferable in the same group. Timeline for vendor selection and approval create challenges that result in teachers using their school division credit card (or "P" cards), School Division Invoice Submissions or Net 30 Payment terms to be used. This should always be discussed with the DJ ahead of time to avoid any confusion.
At Armed With Harmony we require a signed digital agreement and 50% retainer or $500 to hold the date, services, gear, and our staff. We have worked with the short booking timeline of elementary school dances and the further out booking of grad's and after grads. We understand the challenges of organizing committees and have flexible payment terms to accommodate all situations.
2) Do you have 100% clean music?

Make sure you ask your DJ this question in advance. School's are not only houses of education, but follow strict guidelines from the government. At school events - students, teachers, admin and sometimes parent volunteers are present so clean music is a must. This doesn't only mean no swear words, but can also mean "sqeakly" clean versions of songs without references to drugs & sex.
For music video DJ's this involves another step. This means the visual content must also be all age appropriate. If they only have wedding music or their music is not labelled correctly this could be disastrous.
Armed With Harmony was actually founded as a radio DJ mixshow back in 2005 and our music & video library has always been 100% clean for special and private events. All our audio files and video content is meticulously labelled with CLEAN so there are never any mishaps. The decision is easy, we have never received a complaint about music being clean, but I am sure we would if the music had explicit lyrics. All "HIT" music has radio versions so don't let a DJ tell you "they don't have it".
3) Can we see pictures and 1 video of your set up?
This questions allows you see how impressive their set up looks. It allows you to grasp how big of a space will need and how long it may take to set up. Also the technical jargon of 10,000 watts of sound doesn't mean much to the average person shopping for a DJ. You need to ensure the DJ will bring enough WOW to impress the students.
At Armed With Harmony we pride ourselves on being 100% transparent. We have high quality photos of exactly what our packages look like, so there are no surprises. We love to showcase images and video from our past events on our social media pages, so you can see us in action. The preparation and execution showcase the energetic results you and your students are looking for.
4) Have you been to our school before and how long does it take to set up?

The more familiar your DJ is with working with schools and in particular your school the more streamlined the results. The process proper parking, checking in with the office, access to the gym, location of power, light dimming options, custodian rules for floors and clean up should be set expectations. Hiring a DJ/Team who can set up quick allows for maximum PE time for students that day. Having a DJ/Team who can take down fast, means SLC, teachers and staff can go home earlier as they often volunteer their time for school dances and that time should be respected.
At Armed With Harmony, set up time depends on the size of the event, but normally it takes 1-2 uninterrupted hours to set up. Some of the bigger events with trussing, lights & video screens can take up to 4 hours. Typical take down is 50% of the time it took to set up. Knowing this can help you better plan your event to set it up for success. We include any site visits in our pricing and work with you to create a proper floor plan and timeline.
5) Do you bring any special effects?

DJ gear has come so far in the last 5-10 years with different effects like; Smoke, Haze, Co2, Indoor Cold Sparklers and dry ice. Technology in venues has also progressed for the safety of the students & staff. Old smoke and fog machines have been known to set off fire alarms but newer smoke machines don't. What they may do, is set off the newer fire alarms for particle in the air. An experienced DJ knows the difference between all these effects.
At Armed With Harmony we invest the the time and expertise with you to ensure policies are followed with how alarms are handled ahead of time. We also have pictures and videos showcasing the difference between all our special effects to help you see our wow factor services before we even show up.
6) How do you keep your music collection up-to-date?

First off...Hiring a DJ who knows how to please the students as well as staff and parents is a crucial move. It's not easy to do both. If your DJ answers "with CD's", that's a huge red flag. If they say Billboard Top 100, that is borderline dated technology. Apps like Shazam and Tik Tok which monitor real time trends is what will appeal to students.
At Armed With Harmony we know kids are the future and most impressionable with music. They have the time to not only consume the content, they now have access to devices that thrust them to the epicenter of what's about to be hot. You notice I didn't say what IS hot...because the Billboard Top 100 is what is hot, but they are sick of those songs already. Plus the billboard is too slow to report songs that are trending on Tik Tok and viral dance challenges. We have seen songs go from hot to not, in a matter of days.
7) How do you interact with the crowd or motivate the students if nobody is dancing?

Preparation is always the first step. If you understand the students then you will be able to connect with them. Some elementary school's have Tiered Dances, meaning the first hour is for all students K-8 and the 2nd hour is for grades 4-8. This is very valuable information and best to be discussed ahead of time. This helps program our music and interaction accordingly to yield better results.
At Armed With Harmony we discuss the parameters and expectations around music long before we enter the venue so we can prepare accordingly. Let's face it, most students have almost never been to a dance nor do they know the social expectations of one. They need to be taught and motivated (just like in any other subject in school). Our MC and Hype skills will get the students excited, dancing and engaged.
Having props like a limbo stick or ideas for interactive games can often be the ice breaker to set the tone for the rest of the dance. We also offer Must Play and Do Not Play Lists and 25+ Spotify Playlists FREE (click HERE) to generate ideas so we can collaborate on the perfect playlist for you. You can also survey your students ahead of time and get feedback on what they would like to hear.
8) Do you perform any Games or offer any Prizes?

Some DJ's are are great with music and some are great with entertainment but it's hard to find one that is exceptional with both. They must at least understand their strengths and weaknesses and be able to recognize when their focus needs to be put on music or engagement. Planning ahead with school supplied prizes as a "Plan B" should be discussed along with asking the DJ what games or school equipment may be required.
At Armed With Harmony we have 10 tried, tested and true options to break the ice. This helps set the tone for the rest of the dance. We will quarterback your dance and engage the students. Once we get them going the music and mic work can then speak for itself. We don't need to turn the dance into one big game. Reading the crowd to keep the students engaged is what we do best! Anticipating the ebs and flows of the dance can make the difference.
9) What do you require from us as a school?

Team work makes the dream work. Your DJ should be able to supply you with small but direct list of items that will make the day of event easier. You should be able to provide the DJ with an On Site Contact, Timelines, Parent Chaperone Involvement, Floor Plan, known location of power or 220V POWER, Custodian or school rules, music guidelines and/or student requests.
At Armed With Harmony we work with you in our inclusive online planning form that is accessible 24/7 to ensure the success of your event. See the results of curating the right playlists, planning & executing the event so you can focus on what you do best. Our extensive planning process gives you suggestions to help avoid common mistakes when planning a school dances so you can achieve your desired outcome.
10) What are your Safety Procedures?


A school is kind of like a bee hive, there are so many students moving in every direction all the time. It can be a little khaotic, because kids are predictably...unpredictable. Hiring a DJ who takes the safety of their clients serious is important. Proper gear and knowing how to use it is one step, but having a standardized & streamlined operating procedure is key. Being aware of high traffic areas, location and placement of gear should be discussed.
At Armed With Harmony we tape down our cables to avoid tripping hazards, we suggest gym pylons to let students understand the boundaries of where they can, and can't go. We suggest wash lighting if the gym is dark so students can see. We ask if any students have light sensitivities or have issues with strobe lights. We have a privacy statement for our photo booth images. Plus we also have our rigging certificate should we need to hang anything.
Hope these questions help you plan your next YXE school dance. We love hearing from you! Leave comments below on your best Armed with Harmony School dance experiences.
---